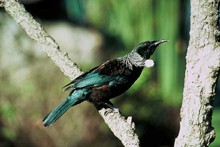 Tracks: There are three tracks in the 60 hectare reserve, from 20 minutes to an hour and fifteen minutes. The longest track (the blue track) circuits the whole reserve. Just inside the forest at the first track intersection a sign has been erected indicating the track network in the reserve.
Getting there: The reserve is located in the Turakina Valley, at the junction of Mangahoe and Turakina Valley Roads, 20kms west of Hunterville. Access to the main part of the reserve is over a stile at the southern-most point of the reserve off Turakina Valley Rd.
Facilities: Just inside the entrance there is a small picnic area consisting of three old power cable reels and rustic benches. A small bridge spans the stream running through the western corner of the reserve.
The locals: tui, shining cuckoo, NZ kingfisher, NZ pigeon.
The Sutherland-Puriri Reserve is home to several Maori food storage pits have been found on the forested part of the north-facing cliff of this reserve. It is believed that Maori would use the food from the pits when supplies ran short in the winter. Many of the tracks go around the storage pits.
The reserve is blanketed in a combination of kahikatea, tawa, kanuka and mapou forest. It is believed the kanuka forest and associated regeneration could have developed after a fire swept through the forest, around the turn of the century. Bird populations have been boosted in recent years because of intensive pest control in the area, for which volunteers are always welcome to help with. Now that pest populations have dropped considerably, the branch hopes to introduce new native birdlife into the reserve.
Reserve Contact
Contact Details:

Michael Voss

Email: