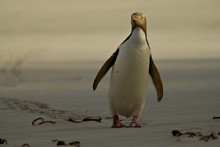 Walking tracks: no public tracks
The locals: Yellow-eyed penguins, bush birds, fern birds and the occasional seal or sea lion
Getting there: Te Rere is situated off SH92 east of Invercargill. Public access to the reserve is limited, however members of the public are welcome to participate in one of the regular working bees that occur throughout the year - see Forest & Bird website for scheduled trips, or contact Brian Rance, Southland Branch, 03 2131161 or rances@southlandcommunitynursery.org.nz 
Te Rere yellow-eyed penguin reserve on the Catlins coast is managed by the Southland Branch, which has been involved in its protection and restoration for more than 20 years. Yellow-eyed penguins are among the rarest penguins in the world.
The 61-hectare reserve was the largest single site for them on the mainland of New Zealand until February 1995, when a fire swept through the reserve, killing many penguins and damaging plantings and forest areas. Since then Southland Branch has increased fire control and community, and its planting of native species has nearly returned vegetation to its natural state.
The branch has employed a part-time caretaker to oversee the reserve, undertaking weed and pest control , but restoration relies on voluntary effort for most of the work. Te Rere is a long-term restoration project and everybody's help is needed and appreciated.
Although not generally open to the public, the public may visit Te Rere on their working days and penguin counts that are held each year. Anyone is welcome - you don't have to be a Forest & Bird member.