The theme for the Centennial Celebrations is "What is your legacy?" and we're encouraging Kiwis to take action and do a little, or even a big, something for nature. Read on to find out how you can join in the celebration.
---
Centennial Speaker Series: A guide to eco-friendly festivities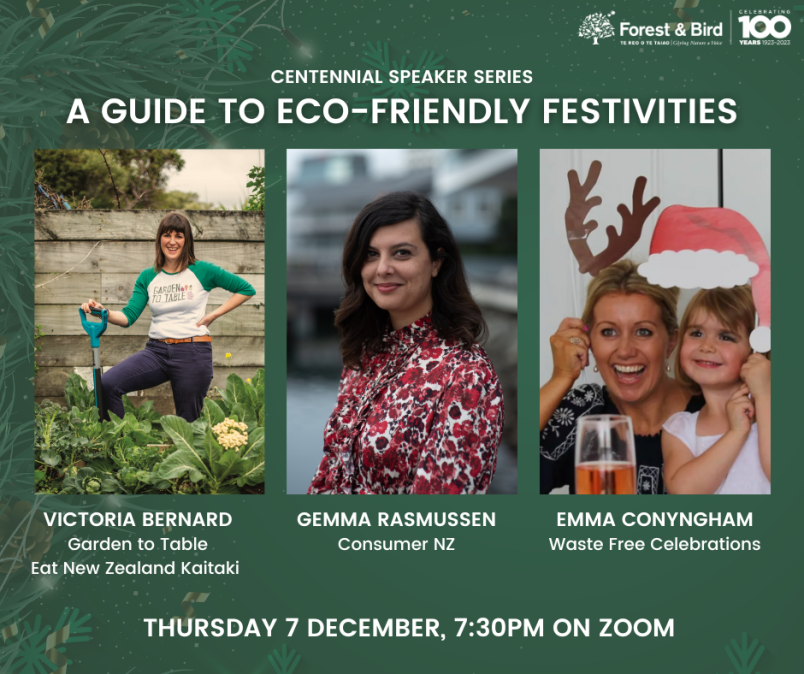 This webinar will explore the ways we can be environmentally conscious this festive season. 
With tips on finding eco-friendly decorations, food sustainability and more, our speakers will share their insights on sustainable practices over the holiday period, enabling you to fully embrace the seasonal festivities while being kind to the planet. 
Our speaker panel includes Gemma Rasmussen, Head of Research and Advocacy at Consumer NZ, who will discuss greenwashing in marketing and help you think critically about sustainable claims when shopping'
Victoria Bernard, Curriculum and Community Manager at Garden to Table and member of Eat New Zealand Kaitaki, will speak about holiday food and how to make eco-minded choices when it comes to your festive feasts. 
Emma Conyngham from Waste Free Celebrations will introduce us to sustainable decoration options, including Christmas (re)crackers, and more 
There will be spot prizes up for grabs, so join us if you can! Register for this webinar here.
For those who can't make it, a recording of this webinar will be shared on Forest & Bird's YouTube page
---
Big Birthday Bash | Auckland
Join us to celebrate 100 years of conservation mahi on February 17 at Shakespear Regional Park in Auckland, next to Forest & Bird's Pest Free Hibiscus Coast Project area.
Bring your family, friends, and a picnic for a fun day out in nature. Birthday cake is included! More details to come. 
---
Centennial Speaker Series | The true damage of invasive species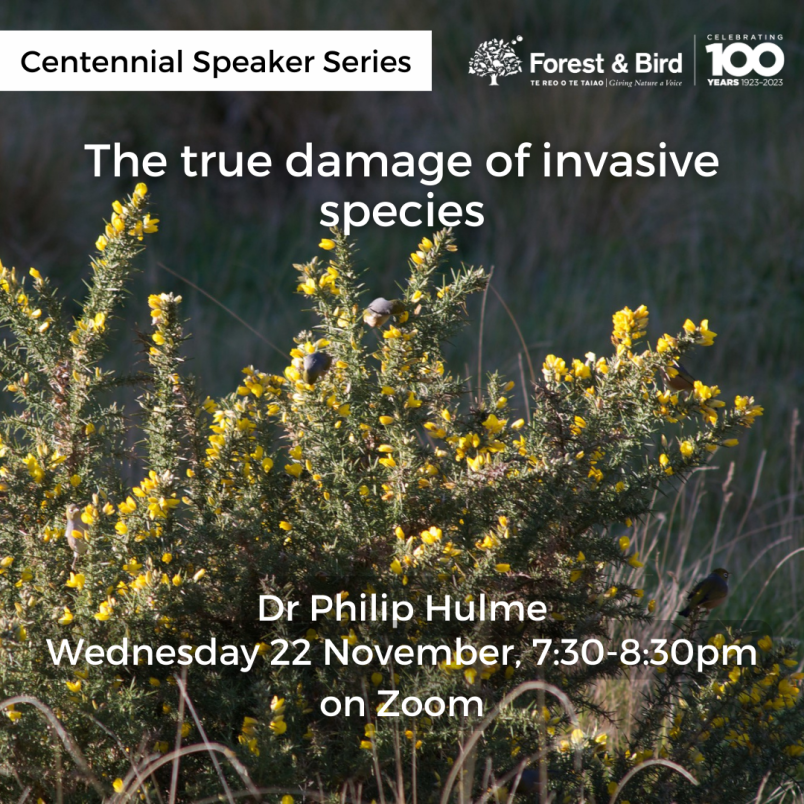 This webinar examined biosecurity from the global to the local level, and the actions you can take to improve biosecurity - including in your own backyard. 
Presenter, Dr Philip Hulme is a distinguished professor of Plant Biosecurity at Lincoln University, who has published more than 160 academic papers in international journals. He talked about his four years of work, with 143 country members, on the first global assessment of invasive alien species and their control. The report highlights the huge impact invasive species have on food security, human health, and the environment. 
Dr Hulme discussed biosecurity in the context of Aotearoa New Zealand and shared some things that we can all do to identify backyard invasive species threats and slow their spread. 
A recording of this webinar is available to watch here. 
---
Bird Art Pātai | Challenge for Bird of the Century!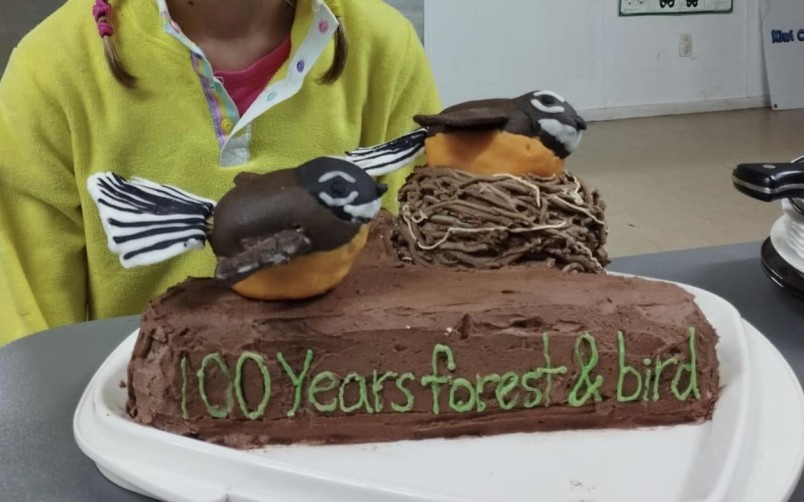 To celebrate Forest & Bird's 100th birthday, we're searching for the bird that has captured New Zealanders' hearts over the last century! There are 75 brilliant manu in the running, including five species that became extinct since 1923.
Make a piece of art to celebrate one of the 75 feathery contenders! Enter one of the categories on the Kiwi Conservation Club website, and send in a photo, or scan, of your mahi to kcc@forestandbird.org.nz by 1 December 2023 to be in to win one of ten birdy prizes!
---
Centennial Speaker Series | 

New Zealand's unbalanced conservation strategy: predators & browsers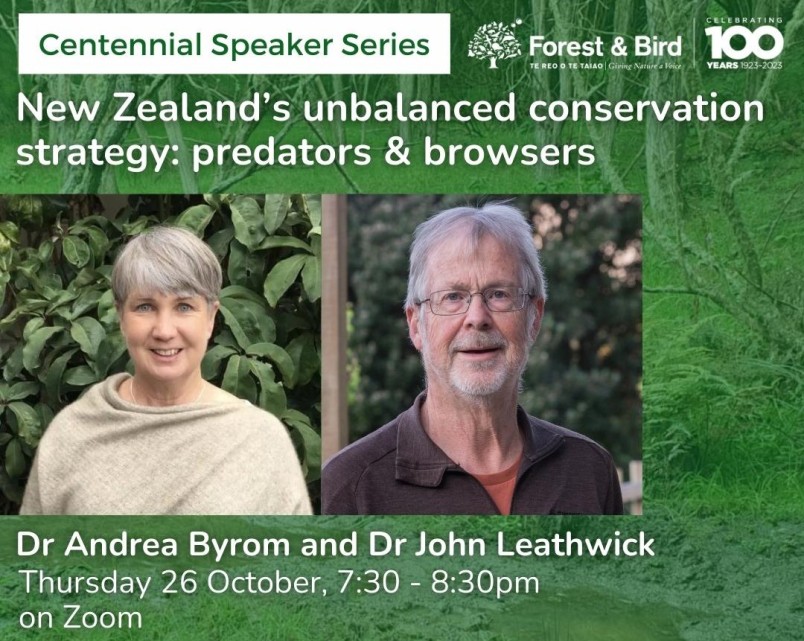 In this webinar, Dr Andrea Byrom and Dr John Leathwick discussed their recently published research that drew attention to the lack of national effort to manage deer and other hoofed browsers while the focus has been on Predator Free 2050.
Predators like rats and possums are a major focus of conservation efforts in New Zealand. Yet, wild ungulates (deer, goats etc) are largely uncontrolled, despite increasing populations and evidence for their negative impacts on a wide range of indigenous species and ecosystems. Andrea and John explained why this imbalance in management effort is much less likely to deliver outcomes consistent with Aotearoa's biodiversity goals than a systematic approach that addresses a full range of biodiversity threats. 
Watch a recording of this webinar here. 
---
Force of Nature Concert | Nelson Arts Festival 2023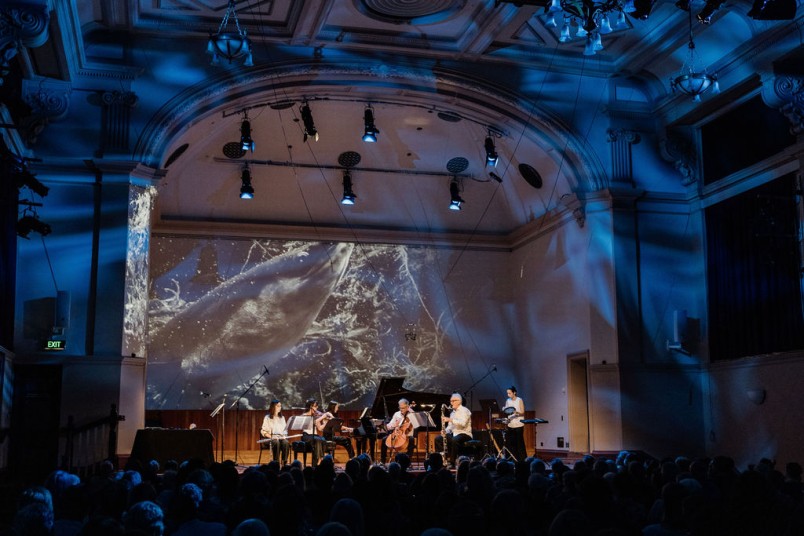 Nelson Arts Festival 2023 included the stunning concert event: FORCE OF NATURE: Celebrating 100 Years of Forest & Bird. 
This gorgeous, rejuvenating evening of eight outstanding works celebrated the vital conservation work of Forest & Bird, while reminding us all of the previous beauty of our whenua, moana, flora and fauna.
Collaborating in concert to salute the mahi of Forest & Bird members and supporters, composers and performers including NZTrio (Somi Kimm, Ashley Brown, Amalia Hall), Peter Scholes, Bridget Douglas, Rob Thorne and Yoshiko Tsuruta brought their command of acoustic chamber instruments to the fore. The stirring performance was inspired by - and aspires to the future of - the Aotearoa way of life.
Keep an eye out for future Force of Nature Concert date announcements!
---
Centennial Speaker Series | Sustainable Threads: Rethinking Fashion & Design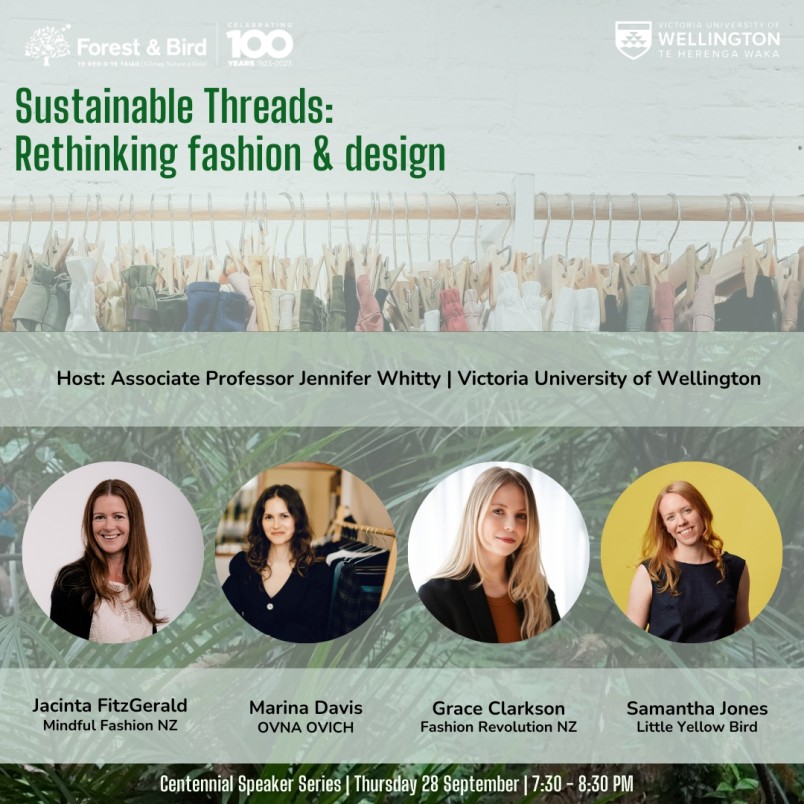 Forest & Bird partnered with Victoria University of Wellington's School of Design Innovation to host a public talk and Q&A session on sustainable design on Thursday 28 September. 
Hosted by Associate Professor Jennifer Whitty, a panel of fashion experts shared insights on the environmental impact of the fashion industry, the challenges and progress towards integrating sustainable practices, and offered advice on making sustainable fashion choices. 
Our 'Sustainable Threads' panel lineup includes Marina Davis, founder, director and designer at Ovna Ovich; Samantha Jones, founder and CEO of Little Yellow Bird; Jacinta FitzGerald, Chief Executive of Mindful Fashion NZ; and Grace Clarkson, Massy University of Wellington graduate and ambassador for Fashion Revolution NZ. 
A recording of this webinar is available to watch here. 
---
South Canterbury Exhibition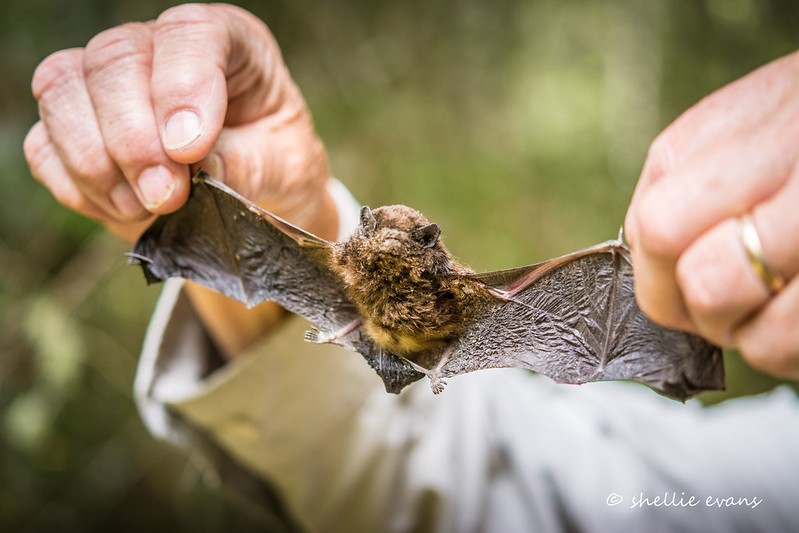 Our South Canterbury Branch is working with the South Canterbury Museum on a Forest & Bird centennial exhibition. Focusing on pekapeka long-tailed native bats, the displays will showcase the branch's work, including habitat and species restoration in its reserves and the wider South Canterbury region. 
The exhibition runs from 19 October through to 30 April 2024. Come along and view the brilliant range of bat-themed memorabilia and more! 
Full event details are available here. 
---
Centennial Planting - Ronga Reserve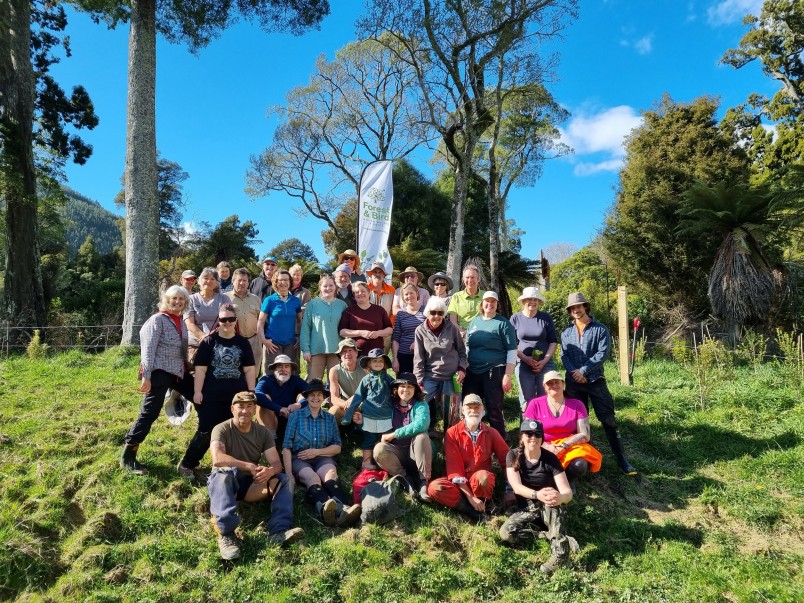 Forest & Bird's annual planting day at Ronga Reserve returned for a bumper Centennial special. Thank you to all who joined us to plant a record 1200 native trees in honour of 100 years of conservation mahi!  
Ronga Reserve is one of Marlborough's remnant forest gems with towering tōtara and matai, and is home to endangered long-tailed bats. Read more about the site here. 
---
Centennial Speaker Series | Nature-Based Solutions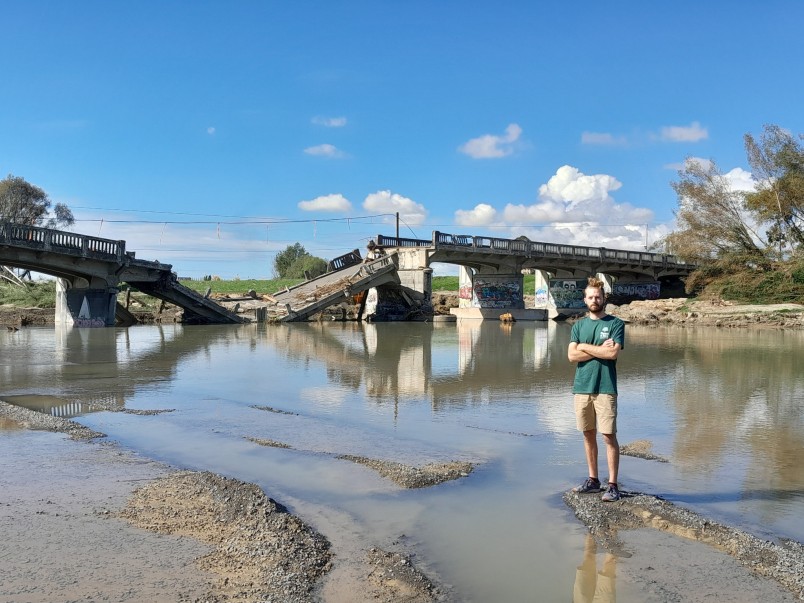 In this month's Centennial Speaker Series webinar, Forest & Bird Freshwater Advocate Tom Kay talked about working with nature to avoid disasters - how 'making room for rivers' and other nature-based solutions can help us out of the problems we've engineered. 
In this talk, Tom showed us how the way we have managed our environment has exacerbated disaster risk. He spoke about the impact of flood protection engineering on the health of our rivers, how this is made worse by the loss of wetlands and forests, and outlined a 'new' way of thinking about building resilience to climate change in our communities. 
Tom also discussed Forest & Bird's advocacy for wetlands and forests, the impacts of extreme weather, examples of councils using nature-based solutions, and opportunities the election brings to influence party promises. 
You can watch a recording of this webinar here.  
---
A Rare Bird | The story of Perrine Moncrieff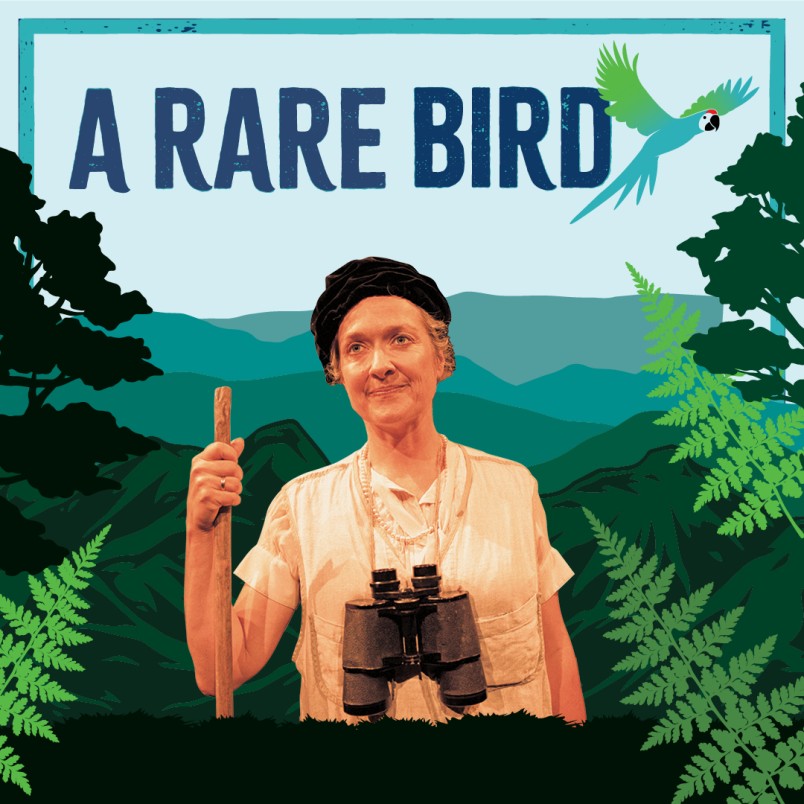 Forest & Bird was honoured to host Elisabeth Easther, who brought her one-woman show, 'A Rare Bird' - the story of conservation pioneer Perrine Moncrieff - to Te Whanganui-a-Tara Wellington on Friday 28 July. 
Ahead of her time and a true force of nature, Perrine Moncrieff fought tirelessly to protect Aotearoa's wildlife. She was a trailblazer in many fields, but it was when she recognised the connection between birds, forests and human survival that her efforts really took flight, including writing the classic 1925 field guide 'New Zealand Birds and How to Identify Them'.
Elisabeth's solo show, 'A Rare Bird', explored the audacious exploits of an extraordinary woman and reveals the vital role Moncrieff played in helping to conserve the flora and fauna of Aotearoa.
Over 100 people joined us at Te Auaha theatre to celebrate Moncrieff's incredible legacy.
Learn more about Perrine Moncrieff's story and her conservation efforts here. 
---
Centennial Speaker Series | Conservation Heroes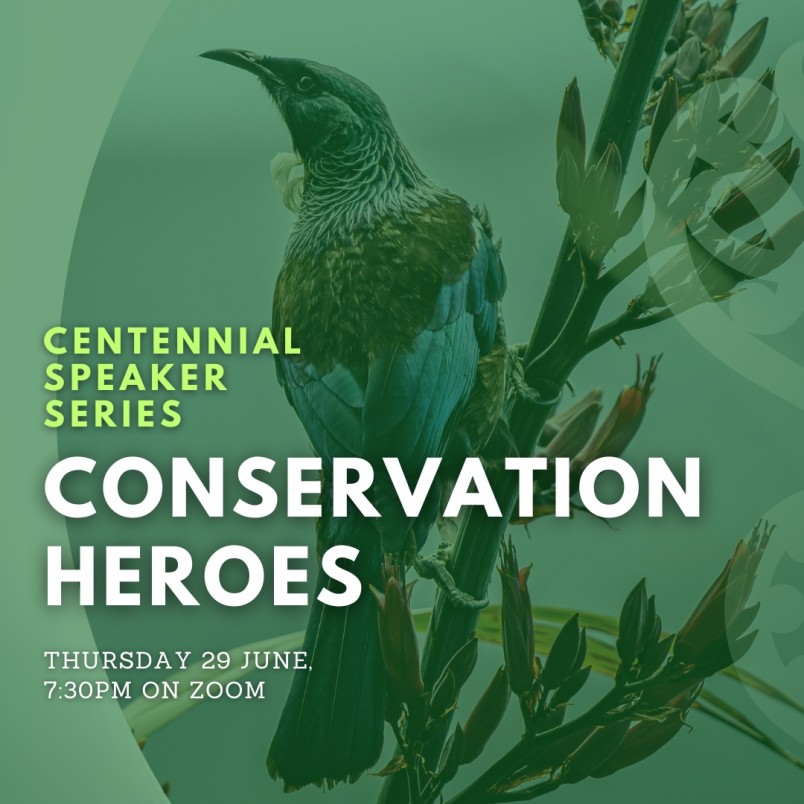 To coincide with the launch of our new project, Conservation Heroes, we shared interviews between four people who champion and protect nature in very different ways, and some of the many people they've inspired.
The project aims to highlight the different ways we can all care for Aotearoa's unique wildlife and wild places.
So, in this month's webinar, four of Forest & Bird's staff members spoke to their conservation heroes about their work and what inspires their love for te taiao. 
This webinar is now available to watch here. 
We hope you'll feel inspired to nominate your own conservation hero!
---
Conservation Heroes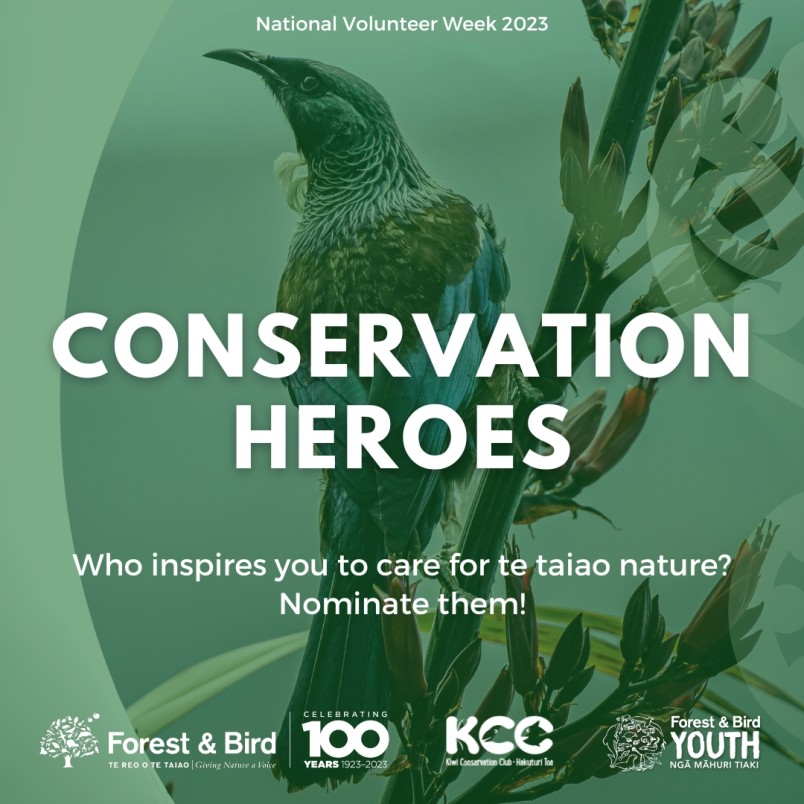 Do you have someone who inspires you to care for te taiao nature? Nominate your conservation hero!
As part of our Centennial Celebrations, we are launching 'Conservation Heroes' - an initiative that will run from 19 June 2023 through to February 2024. 
You can nominate friends, whānau, community members, or anyone who inspires you to be a kaitaki guardian for nature, by filling out our Conservation Heroes form available here in English and te reo Māori. You'll be asked for a short description about your conservation hero's work and what it means to you and, with their permission, you're welcome to include a photograph of them. Forest & Bird will share these stories to inspire others. 
There are no restrictions on nominations. It could be someone who's got a rat trap in their backyard, a young climate campaigner, or a conservation volunteer who's planted native trees for decades. Everything we do to help nature counts - and it all adds up. Nominate your hero today!
---
Stamp Design Pātai | Challenge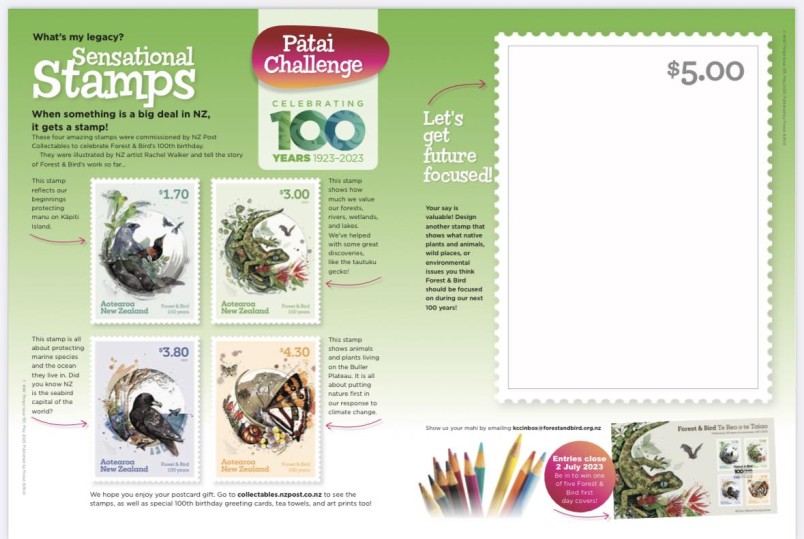 Creative skills were put to the test in our Stamp Pātai | Challenge! 
As part of Forest & Bird's centennial, four fabulous nature-themed stamps were designed by Te Whanganui-a-Tara Wellington artist Rachel Walker and released by NZ Post. So, we challenged stamp-enthusiasts to design a fifth, future-focused nature-themed stamp. 
With over 200 entries, it was very hard to choose our top five.
Thank you to everyone who submitted a design. Check out the fabulous winning entries here. 
Centennial Speaker Series | Mining Threatens Tāiko Westland Petrels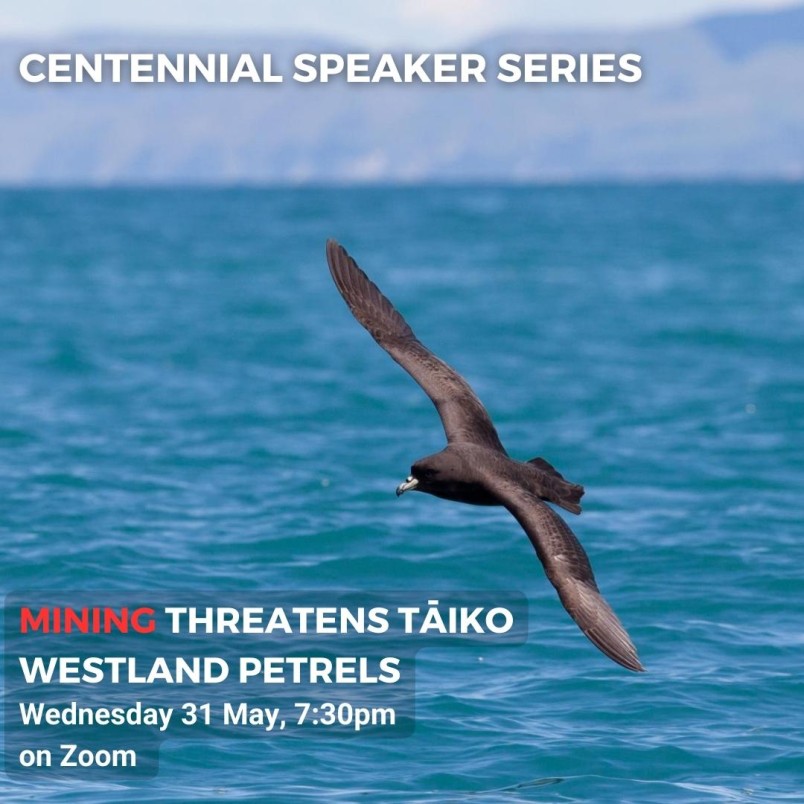 Our third Centennial Speaker Series event focused on a proposed mining operation in the West Coast which is threatening tāiko Westland petrels.
The proposed operation will involve 50 years of open cast mining in the Westland pretrels' only breeding ground above the Barrytown Flats near Punakaiki, 24/7 processing, a loadout facility, and trucking of heavy mineral concentrate to Westport, Greymouth or Timaru. For the rare tāiko, this is the wrong mine in the wrong place.
We will share a link to this webinar as soon as it is available.
---
Centennial Speaker Series | Capturing Conservation History on a Stamp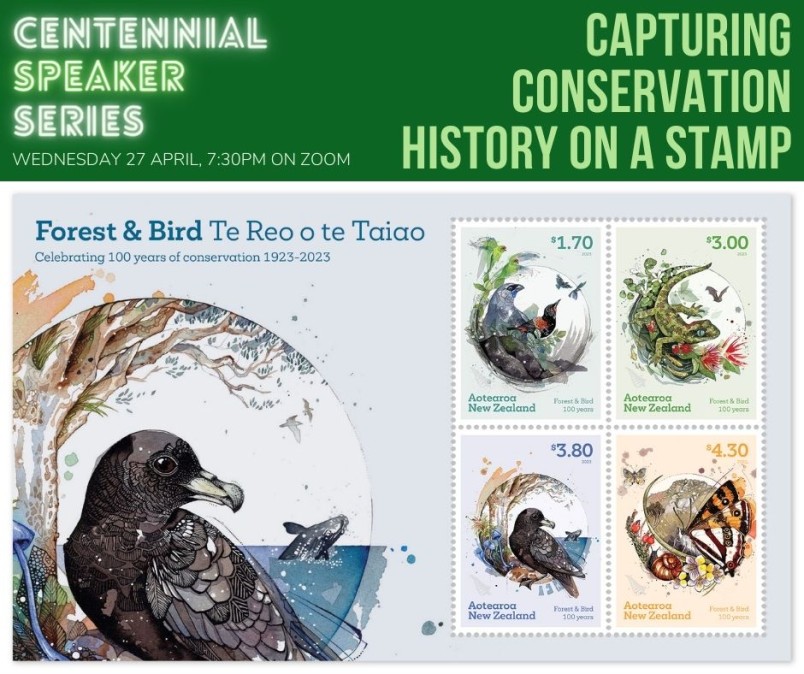 In this second webinar in our Centennial Speaker Series, our panel of speakers discussed the beautiful artworks by Te Whanganui-a-Tara Wellington-based artist Rachel Walker, the fascinating story behind each stamp and the elements of Forest & Bird's conservation mahi they represent.

The speaker panel for "Capturing Conservation History on a Stamp" included Lynette Townsend, Stamp Design team lead at NZ Post, and Forest & Bird's project and regional conservation staff.

This webinar is now available to watch here. 
---
Tribute to Sanderson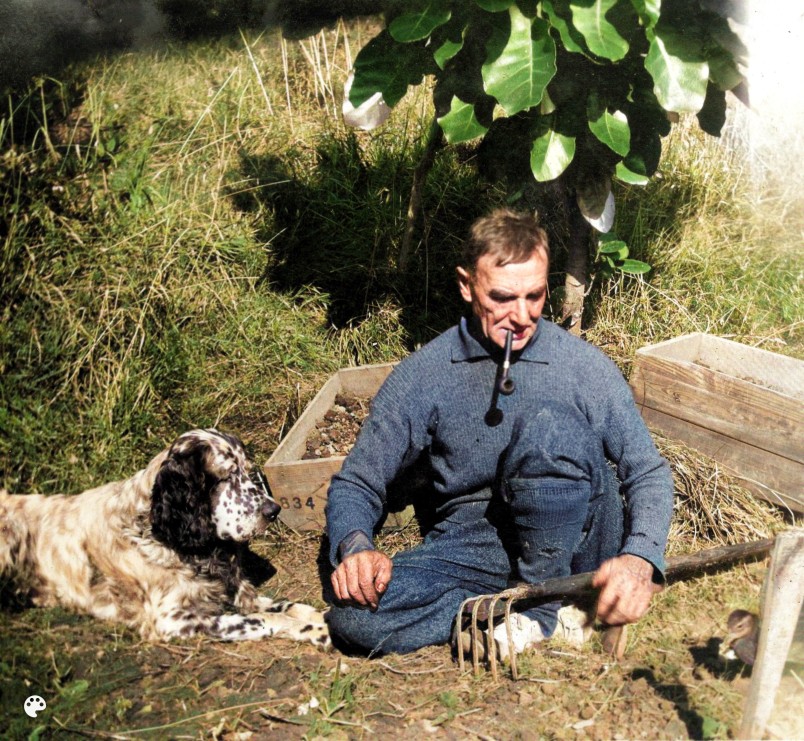 Forest & Bird partnered with Paekākāriki conservation group Ngā Uruora to unveil a tribute to the life's work and legacy of Forest & Bird founder, Captain Ernest "Val" Sanderson.
On 29 April, part of the newly-restored Waikākāriki wetland was officially named "Sanderson's Way" and an exhibition, "Inspired by Sanderson", was held in his honour.
You can read more about the tribute and Sanderson's legacy here, and check out photos from the event here. 
---
Forest & Bird and NZ Post nature-themed stamp collection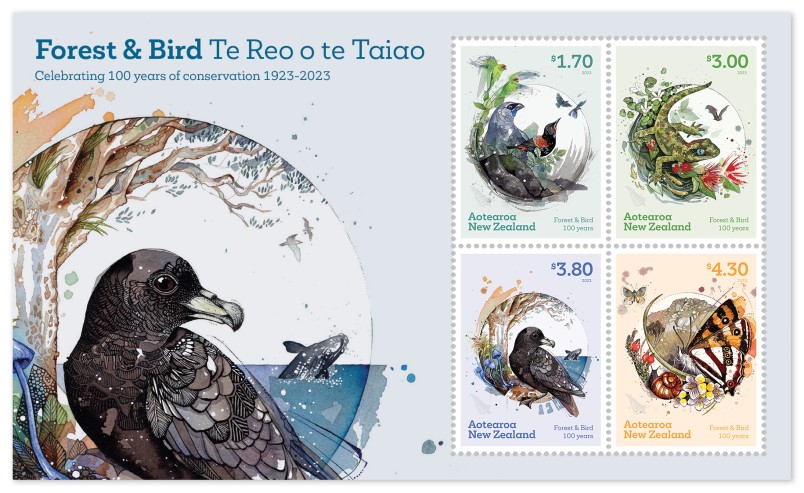 We are delighted to mark our centennial with the release of an exquisite set of nature-themed stamps designed by Te Whanganui-a-Tara Wellington wildlife artist Rachel Walker and produced by NZ Post.
The beautiful watercolour artworks represent the four main areas of Forest & Bird's conservation mahi - terrestrial, freshwater, marine and climate – as well as the efforts of thousands of Forest and Bird members, volunteers and staff over the past century who have worked to preserve our endangered wilderness areas and the critters they're home to.
Each stamp has been designed around particular landscapes and species of significance to Forest & Bird and its membership. With kōkako, gecko, tāiko black petrel, a forest ringlet butterfly and so much more – it's hard to pick a favourite between Kāpiti Island, the Catlins, the Waitākere Ranges and the Buller Plateau.
It's been our pleasure to work with NZ Post on this collection and we hope stamp collectors and members of the public love the range – stamps, prints, greeting cards & tea towels - as much as we do. We want anyone who cares about Forest & Bird's important work to be able to join in on the celebrations, whether or not they are stamp collectors. Order now!
---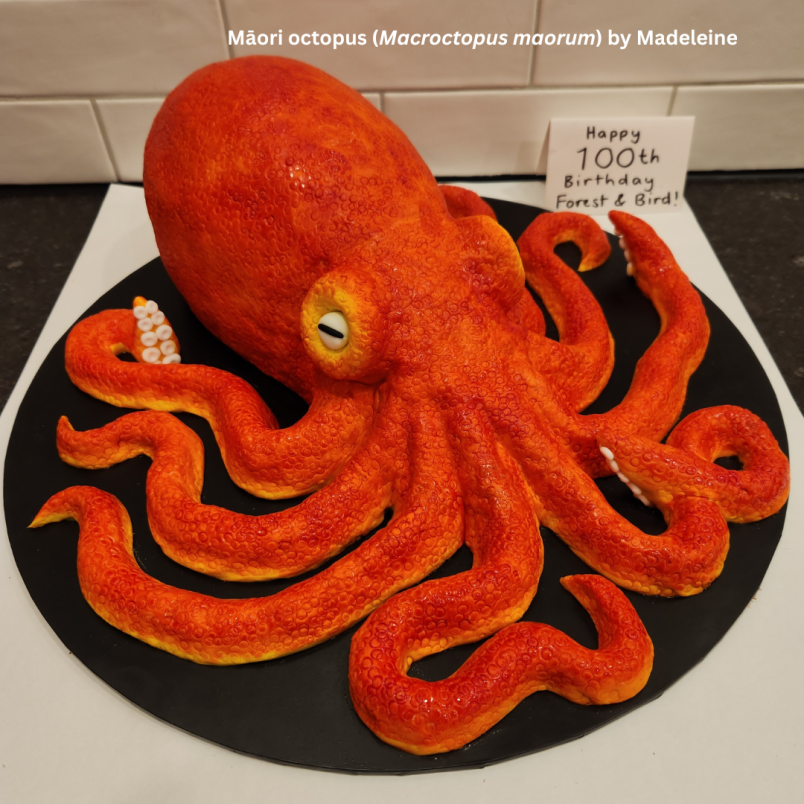 Centennial Nature Cake 

Pātai | Challenge
Our Nature Cake Pātai | Challenge closed on 22 March and had over 100 amazing entries sharing creations from the baked and iced to imaginative cakes made from nature.
Thanks to all the preschoolers, kids, youth, and adults who entered. You put so much thought and effort into your edible and inedible/ornamental cakes! The quality and quantity of the entries was absolutely amazing!
Congratulations to our winners - here they are in no particular order:
[You can view all 10 winning cakes here]
Māori octopus (Macroctopus maorum) by Madeleine
NZ waterfall cake by Noah & Maia (both aged 12)
Rubbish cake by Rafael (age 5)
Seashore cake by Addison and Jemima (both aged 12)
Seed cakes for birds by Belmont Guides (ages 9 - 12)
Tuatara cake by Jean and Emil
NZ Fungi cake by Tahlia (age 14)
Old Blue cake by Rebecca
Lizard and Bug Hotel cake by Jasper (age 6)
Nature cake by Colton (age 4) and Ava (age 2)
---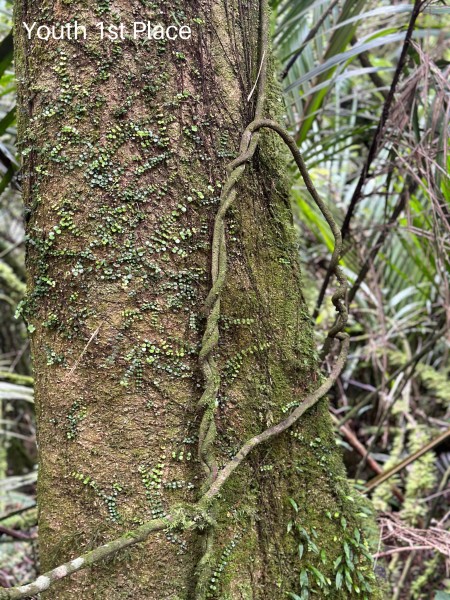 Bushy Park Tarapuruhi photo competition
Thank you to all participants in our recent Bushy Park Tarapuruhi photo competition. The competition was open to all photographers, of all ages, both amateur and professional across two categories (16 & over, and 15 & under) - and we received 67 awesome entries from across the motu.
The judges were charged with looking for well-composed, artistic, and original images that best evoked the competition's theme: the Bushy Park Tarapuruhi ngahere forest.
Judging was blind, which allowed for interesting results, with some winners taking multiple places!
Winners | Category 15 and under: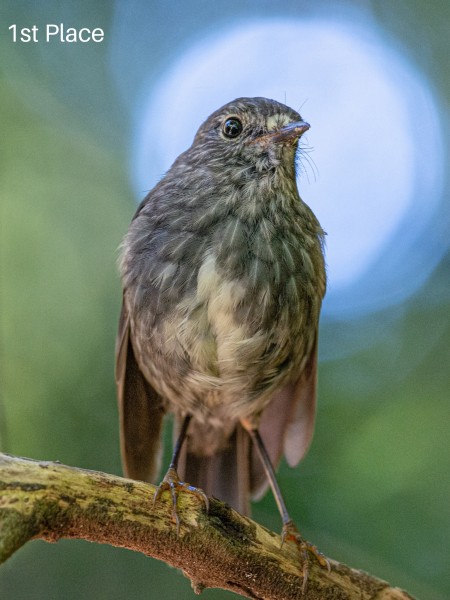 1st | Mihaila Haami | "rakau"
2nd | Bjorn Rains | "Sunlight"
3rd | Bjorn Rains | "Fungi"
Winners | Category 16 and over:
1st | Mark Brimblecombe | "robin"
2nd | Lynette Vallely | "Fungi"
3rd | Lynetter Vallely | "female hihi"
The judges also noted the following photographers for special merit: Christine Jacobson, Andrew Labett, Esther Clemens, John Smart and Susan Goldsworthy.
All the winning photos can be viewed here.
---
Big Birthday Bashes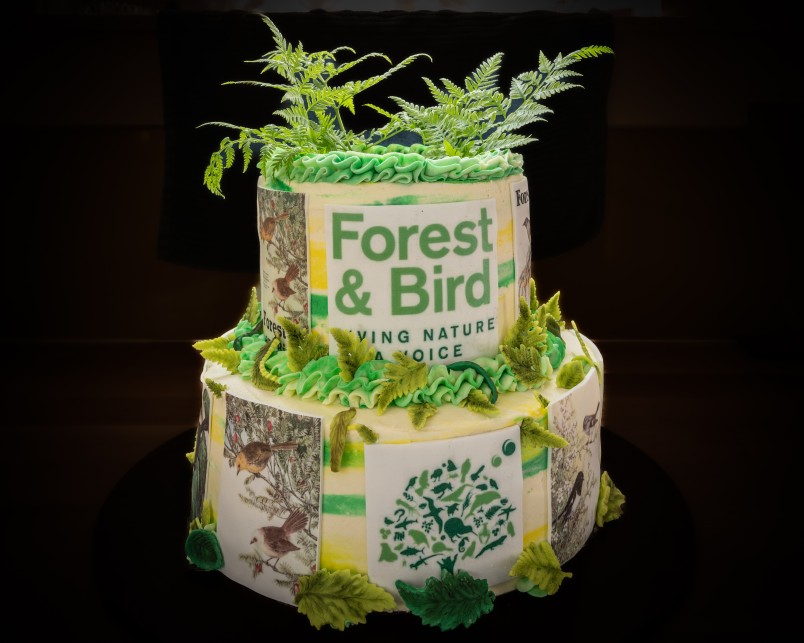 Almost 100 years to the day that a small group of men and women established the Society in Wellington, we kicked off our celebrations with The Big Birthday Bash parties on 25 & 26 March in Bushy Park TarapuruhiWhanganui; Pelorus Bridge Scenic Reserve Whakatū Nelson; and Lenz Reserve The Catlins - with activities for the whole whānau, including scavenger hunts. Two additional birthday bashes were hosted by our Golden Bay and West Coast branches the same weekend.
Our thanks to all our branches, volunteers, partners and supporters! Watch the video.
---
Force of Nature concerts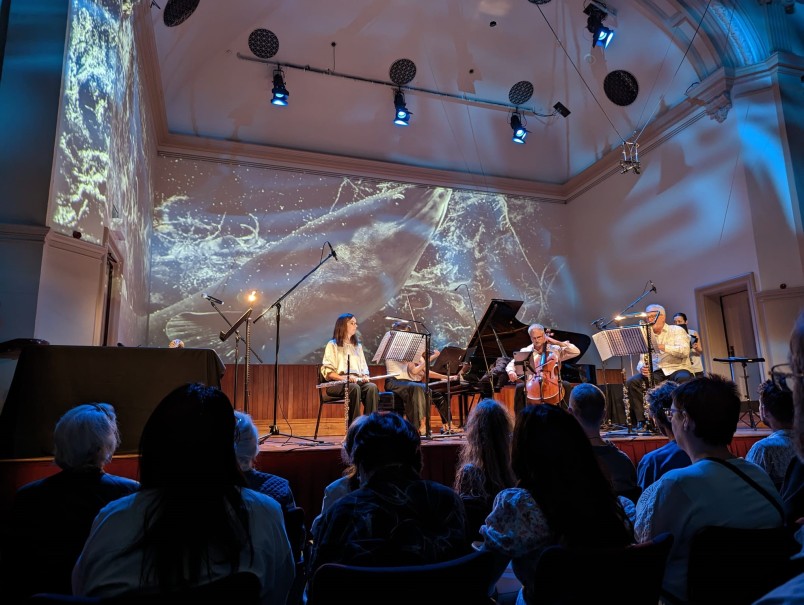 Eight New Zealand composers took us on a journey inspired by the natural world at three Force of Nature concerts; the premiere was held at the Auckland Arts Festival on 17 March to much acclaim and was followed by performances in Wānaka and Ōtautahi Christchurch on 2 and 3 April.
Read more about the artists and their compositions here and if you would like to enjoy this incredible music in your own home, you can purchase the Force of Nature CD from our shop.
---
Other events
These events are followed by 12 months of fun, inclusive, and thought-provoking activities for all ages to enjoy. A monthly speaker series, the launch of four stunning postage stamps (see both above), our centennial conference at Te Papa, and a tribute to Forest & Bird's founder Captain Ernest Val Sanderson are just some of the highlights. 
CHECK OUT OUR CENTENNIAL EVENTS
---
History
Most New Zealanders love nature, it's part of who we are. So, we see this as a once-in-a-100-year chance to encourage thousands of small actions to help nature thrive.  
There are lots of ways people can make a difference to Forest & Bird's mahi including volunteering at one of our local conservation projects, signing our petitions, or by making a donation or bequest. 
Even better, encourage your friends and family – or customers – to join Forest & Bird or Kiwi Conservation Club (KCC) or Forest & Bird Youth and create thousands of new voices for nature during 2023!  
We can't wait to share stories about the thousands of men, women, and children who have stepped up to be a voice of nature over the past 100 years and what they have achieved.  
Our founder Captain "Val" Sanderson once said: "Give nature a chance and she will repair the damage." His successful 1920s campaign to restore Kāpiti Island proved it was possible. 
He encouraged women and children to be active and passionate conservationists and educated his membership about the need to understand how Māori viewed nature and their role in conservation of our special wildlife and wild places. 
READ MORE ABOUT FOREST & BIRD'S HISTORY
---
What will your legacy be?
Forest & Bird was Sanderson's legacy, the first modern-day conservation group in Aotearoa – and still as proudly independent today as it was 100 years ago. Every dollar we spend is donated by generous New Zealanders like you. 
As well as reflecting on Forest & Bird's rich history, there will be plenty of opportunities during our centennial to think about the future of conservation and what that might look like. 
Our message is one of hope, reflecting on the power of people to come together to restore nature back to abundance and restore its mana and wellbeing. 
Five generations of Forest & Bird volunteers and staff have worked together, and with others, to protect and restore nature in Aotearoa.  
There are many ways we can all make positive changes for the climate and for biodiversity in Aotearoa. Have a look in your backyard, what will your legacy be?