Four-wheel drive vehicles are destroying fences aimed at protecting nesting birds and driving over entire areas of beach, after a bylaw to ban vehicles from a stretch of Marlborough's coastline south of Marfells Beach has failed to progress.
 
"We're now in the thick of the breeding season for our threatened coastal birds, such as banded dotterels and variable oystercatchers. A single tyre track can destroy a nest," says Forest & Bird Regional Conservation Manager, Debs Martin.  
 
"As the weather has warmed up Forest & Bird members have seen significant damage from vehicles' owners who have ignored requests to respect the environment, and wilfully damaged a fence put in place to help protect breeding sites."
 
In 2019, the Marlborough District Council agreed to progress a proposal for a bylaw banning vehicles from the Marlborough's East Coast beaches from Marfells Beach and around Cape Campbell, but since then the progress has ground to a halt.  
 
"It is so frustrating to see this ongoing reckless driving. And to know that the birds are trying to nest and raise their young amidst all of this is heart-breaking," says Ms Martin.  
 
There are significant numbers of breeding birds at an area around Canterbury Gully, 12 kilometres from the road end at Marfells Beach. During this November vehicles were driving over this whole area. Two photographs available here show vehicle tracks on the beach and around a damaged wildlife-protection fence.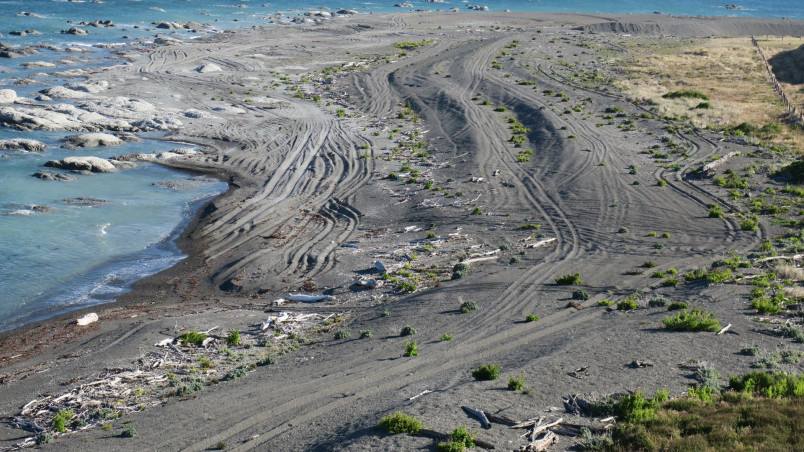 "The refusal of four wheel and quad bike drivers to acknowledge the harm they are causing is only making the situation worse," says Ms Martin. "At a time when Council is protecting places from freedom campers, they must do more for our vulnerable coastal environments."
 
Forest & Bird would like to see the bylaws introduced as soon as possible, says Ms Martin. "The best Christmas gift we could give our coastal birds, seals, and plants, is freedom from constant harassment and destruction by vehicles."