A scorecard developed by supporters of the Freshwater Rescue Plan shows big differences between the seven main political parties on fresh water in the lead-up to the election.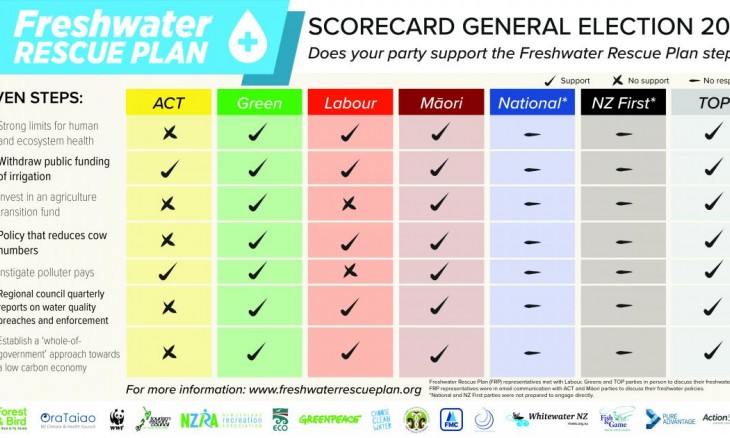 The scorecard shows three parties support the Freshwater Rescue Plan in full, and five of seven parties favour ending public irrigation subsidies, with only National and New Zealand First refusing to state their position.

"The Freshwater Rescue Plan has seven steps to save New Zealand's rivers and lakes from overuse and pollution. It has broad support from organisations across the conservation, tourism, and public health sectors, which all-together represent about half a million New Zealanders," says Forest & Bird Chief Executive, Kevin Hague.

"There's no hiding behind rhetoric now. The scorecard shows exactly who supports the Plan, and who doesn't."

Supporters of the Plan have consulted with political parties and analysed policy statements to develop the scorecard.

"The most telling aspect of the scorecard is seeing how many parties want to end public irrigation subsidies. The Government has committed to spending half a billion dollars in public irrigation subsidies, but most political parties want to end this."

"ACT, Greens, Labour, Māori Party, and TOP all plan to end irrigation subsidies. National and New Zealand First need to tell voters what their position is and explain whether they think farming can stand on its own two feet without irrigation subsidies."

"Looking across the positions of political parties, post-election negotiations could have a significant impact on what action is taken in the next three years to solve the freshwater crisis."

The Freshwater Rescue Plan also includes steps to reduce cow numbers, create meaningful regulations on pollution, encourage reporting on water quality, transition to sustainable farming, and move to a low carbon economy. Only two parties – National and New Zealand First did not engage with the Plan's supporters to endorse any of the steps in the Freshwater Rescue Plan.

Background notes:
Read the full Freshwater Rescue Plan at www.freshwaterrescueplan.org

Organisations supporting the Freshwater Rescue Plan are: Choose Clean Water, Federated Mountain Clubs of New Zealand Inc., Fish & Game New Zealand, Forest & Bird, Greenpeace New Zealand, OraTaiao - New Zealand Climate & Health Council, the Public Health Association, and the Tourism Export Council of New Zealand, ActionStation, Environment and Conservation Organisations of Aotearoa New Zealand (ECO), New Zealand Federation of Freshwater Anglers, New Zealand Recreation Association, Pure Advantage, Waitaha Executive Grandmothers Council, Whitewater New Zealand, and WWF-New Zealand.