By providing nest boxes, predator control, and plant cover around Wellington's South Coast we are creating safe places for little penguin kororā to breed.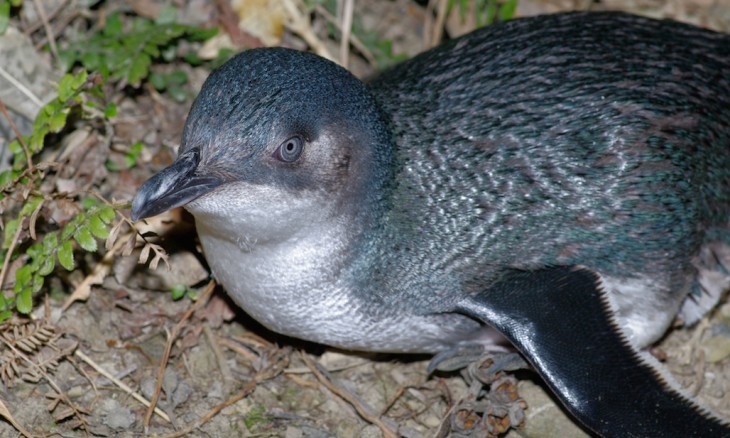 Little Penguin is one of the few coastal bird species that live close to urban areas and as such  cars and dogs pose a real threat. Despite their feisty nature, these pint-sized birds are classified as 'at risk' and their numbers are declining.
Places for Penguins started at Tarakena Bay in Wellington during Seaweek in 2007. It was built on other Forest & Bird and community penguin protection projects at Oamaru and the West Coast.
Little penguin (kororā) fact sheet 
Plantings
Penguins nest in a variety of coastal habitats, but the type of habitat available may influence nest construction and success.
It is important that kororā have access to beaches with natural vegetation that provide good cover.
Our volunteers have planted over 5,000 native plants such as wiwi, muehlenbeckia, and taupata around Wellington's South Coast.
Planting projects like this aren't just good for kororā. They also increase plant diversity, repair dune systems, and help to prevent erosion, which benefits skinks, oystercatchers, and other coastal birds.
Predator control
Like many of our native birds, introduced predators are a major threat to kororā.
While nesting, kororā can face threats from a range of predators including dogs, feral pigs, cats, rats, and mustelids i.e. ferrets, stoats, and weasels.
In urban areas, such as Wellington, dogs and mustelids have the greatest impact on the local kororā population's size and distribution. 
Dogs are one of the worst threats, but also one of the easiest to remedy. You can help to protect kororā by keeping your dog on its leash around nesting areas.
Our volunteers monitor over 200 traps for rats and mustelids along the coast and inland as well as refresh bait stations for rats further inland. This work benefits the penguins as well as other native coastal fauna.
This pest control programme has been generously supported by the Wellington City Council and Greater Wellingtonl.
Urban threats
Cars are a serious threat for penguins when crossing a road to access nesting sites and roosting areas.
In Wellington, penguin crossing signs have been used for many years to reduce traffic speeds and to make drivers more aware of penguins crossing the road. 
Our nest boxes are placed on the seaward side of Wellington's coastal road to help prevent any accidental deaths. 
---
What can you do