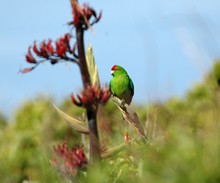 How to get there: SH 92 (70 kms south of Balclutha) on the Catlins coast.
The locals: Forest gecko, green tree frogs and 16 types of native fish species are found in the reserve, as well an abundance of native birds. The regionally rare South Island fernbird is found in good numbers in the wetland pasture areas, along with kereru, shining cuckoo and Australasian harrier. Bellbird, yellow-breasted tit, brown creeper, grey warbler, pipit, kingfisher, long-tailed cuckoo, grey duck and the threatened yellow-crowned parakeet and red-crowned parakeet (kakariki) can also be found although they are less common.
Facilities: 
The Tautuku Forest Cabins can accommodate up to 16 people in three buildings at the heart of the reserve. For more information, see PDF below. 
Tracks: Three easy walking tracks, varying from 2-9km, start from the lodge:
The Nature Walk follows a roughly circular route and takes about an hour of easy walking. Identification plaques have been installed along this track.
The Long Track follows the old tram line up the ridge behind the lodges, crosses the Fleming River over a bridge, traverses the bank and through an area of old growth podocarp forest, recrosses the river on a second bridge, and returns to the lodges via the Nature Walk. At a high point of the track a raised platform provides views over the reserve. Conditions can be muddy along parts of the track by the river.
The Boardwalk Track branches off the Nature Walk and finishes at a 30m boardwalk into the wetland.